Optic Fibre & Data Cabling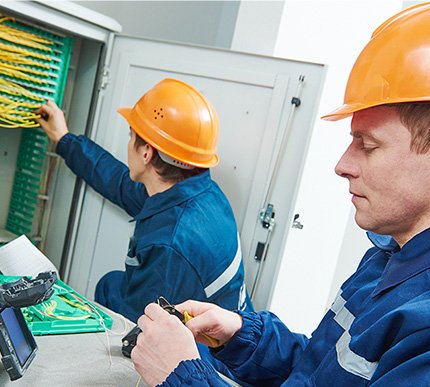 Optic Fibre and Structured Data Cabling
Dynamic Data & Security does Optic Fibre Cabling. So What makes a good Optic Fibre Installation?
There are different Optic Fibre cables to be installed depending on your application:
Multimode Cable
Multimode cable is used over shorter distances, typically up to 300m in length. The data services that use this generally operate using a pair of optic fibre cores, one for transmitting and the other for receiving.
Single Mode Cable
Single Mode Optic Fibre is used for long distances, typically up to about 80 Km. The data services that use this can operate using just a single core of the fibre, and this fibre can use different wavelengths of light to transmit different services. This type of optic fibre is typically found in the NBN structure along the roads, and in gated communities to deliver Internet, telephony, TV and other network services via a Gigabit Passive Optical Network (GPON).
Dynamic Data & Security offers both these types of cabling. We can install this for smaller IT networks, or we can implement a full GPON solution.
Customised Installations
We can offer different solutions based on your needs. We can deliver pre-terminated cable, temporary solutions with push on connectors or the full kit using optic fibre fusion splicing.
Data Cabling
Dynamic Data & Security Offers Structured Cabling Solutions for our clients. So what is structured cabling and how is it different from normal cabling?
Structured data cabling is usually twisted pair cable that is installed in such a way that it will support high-speed data transmission. This is now becoming essential in both corporate and residential networks for both telephone and data applications.
The care taken to install a structured cabling solution is much higher than in non-structured solutions. Examples of this are:
The cabling is supported the whole length of the cable run. It should not be installed so that it is hanging loosely from the ceiling, or bends sharply around any edges.
Cable ties are not permitted to be used on structured cabling as they will deform the cable and reduce the effectiveness for it to transmit high-speed data.
The cables must be kept dry in a non-moist environment.
The cables are installed to either the Australian or International Standards and meet with the local legal compliance.
The testing of the system is done by some very rigorous test equipment such as the Fluke DTX-1800 or Fluke DSX meters. These meters are expensive to own but are the only accurate way of verifying the data transmission characteristics of your network. These test results are verified by an independent third party.
Structured cable is usually installed by a licenced installer. The licenced installer will usually carry a manufacturer's extended warranty support. This can cover the labour and the materials used for the installation. This is manufacturer dependent, and the warranties usually run from 15 years to a lifetime depending on the manufacturer.
Rectification Work
If you are experiencing network issues with your phones or computers, chances are that your cable has not been installed by a licenced installer with manufacturer support and it may not have been tested with the correct equipment.
Warranty
Dynamic Data & Security offers manufacturer warranties for Clipsal, TE Connectivity (formerly Krone) and Panduit networks. Dynamic Data & Security has optic fibre fusion splicing and test equipment to make sure your installation is functioning at peak performance.
Our Happy Clients Speak Out